Welcome to Engraved To Last
We're America's leading provider of personalized big-barreled baseball bats for special recognition awards. Reward performance, achievements, and participation in special events/occasions with a unique, hand-crafted keepsake award that will be cherished for years. We provide premium quality full-size bats; expert customization; large engravings of logos and text; excellent service; and customer satisfaction from years of dedication to providing products of uncompromising quality.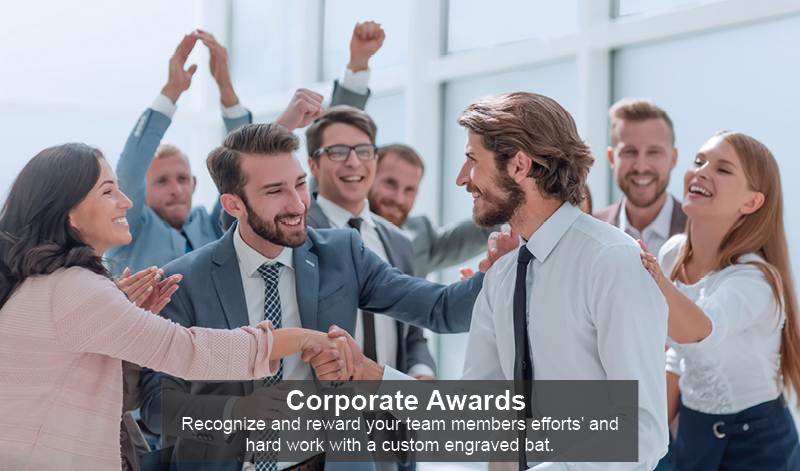 Handcrafted, Keepsake Awards
Click on the categories below for more information about some recognition programs that incorporate a customized baseball bat featuring the logo of a company, organization, team, agency, branch, etc along with colors of choice for personalized engravings.
Quality
We use only full sized, big barreled bats. Full sized barrels provide more room to engrave your message in large font size so you can read them "without your glasses". We customize your bat your way. Your logo, your text, your vision. Special occasions, births, birthday, graduation, weddings, Bar Mitsvah, corporate events, and more. Every special event deserves a quality bat to mark the occasion!
Styles
White ash, premium maple, Vintage 1950 Adirondacks, Vintage Louisville Sluggers, Rawlings. Custom options include your logo or one of our stock logos, custom text, colored bats, HAND painted engraving [very old school], bat racks, gift bags, and free gift cards.
Customer Service
Our Company provides the ultimate in customer service to help you obtain the memory you envisioned on your custom bat. Real people to help you put your thoughts on a custom bat that will endure and be cherished through the years. Call or email us and let us live up to your expectations.