Events and Special Occasions
A full-sized, "big barreled", premium wood baseball bat that is custom-engraved with text, logos and designs that are hand-decorated to your choosing is a distinctive way to recognize attendees, special guests, and participants of various corporate and individual special occasions such as conferences, grand openings, seminars, trade shows, ground breaking ceremonies, delegations, business openings, weddings and others who you'd like to reward with a keepsake-quality award to be proudly displayed for years.
Some examples of events and special occasions that our customers recognize attendees, special guests and participants with awarding a custom bat from Engraved to Last include:
Annual corporate conferences and sales meetings
Donor recognition at grand opening ceremonies
Ground-breaking for real estate development projects
Special events for top vendors, customers and sales teams
Business grand openings
Fund-raising awards and gifts
Grand opening of new athletic facilities, ballpark stadiums, recreational facilities
Flexible shipping – Finished bats can be shipped together to your office, or to individual recipients wherever they are located.
.
Styling Options
Engraved and hand-painted logos (one or several)
Custom text and font style, hand painted to your color of choice
Bats are full-sized, 34 inches long with 'big barrel' design that provides additional room for your engraving; trophy quality
Bats available in natural clear coat finish or various painted colors including black, blue, red, silver, green, cherry and others
Ash or maple wood. Ash bats present much more wood grain, are lighter in weight and color, and are available with the manufacturer's genuine logo on the handle as an option. Maple bats present very little grain; very smooth finish; and are heavier/more substantial….a premium bat
Plain ash bats are available in clear coat finish so that only your logo(s) will be displayed, or are available with the logo of the bat manufacturer (Rawlings, Louisville Slugger, 'Vintage' Adirondack) on the label of the bat just above the handle
Proofs available
Gift bags and bat holders available
Custom Engraving
Our experts are ready to engrave your conferences, grand openings, seminars, trade shows, ground breaking ceremonies, delegations, business openings, weddings design and special message on professional size, premium quality hardwood baseball and softball bats.
Outstanding Value
Our professional sized premium baseball bats and plaques are engraved at competitive prices:
Premium Quality Baseball Bats – Custom Made, Professional, 34 inch White Ash and "Big Barrels" that give us more room to engrave your logo and message.

A wide Choice of Bats – Start with a completely blank ash or maple bat, or choose a Rawlings, Vintage Adirondack or Louisville Slugger. All custom text, logos and graphics are precision engraved.Proofs are available and we waive Set-up fees. Pricing is simple with volume discounts available.

Flexible Shipping Options – Fed Ex, UPS, & US Postal Service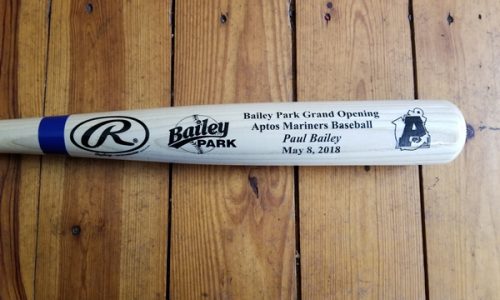 Quality and Excellent Service
We provide outstanding service dedicated to helping you create the best corporate gifts. We work hard to make your job easy.  Please contact us to discuss your needs.  You can E-Mail us at sales@engravedtolast.com or give us a call at 518-580-1122 8am-5pm EST Mon-Fri.